About kestra
Pioneering the Future of Data Orchestration and Automation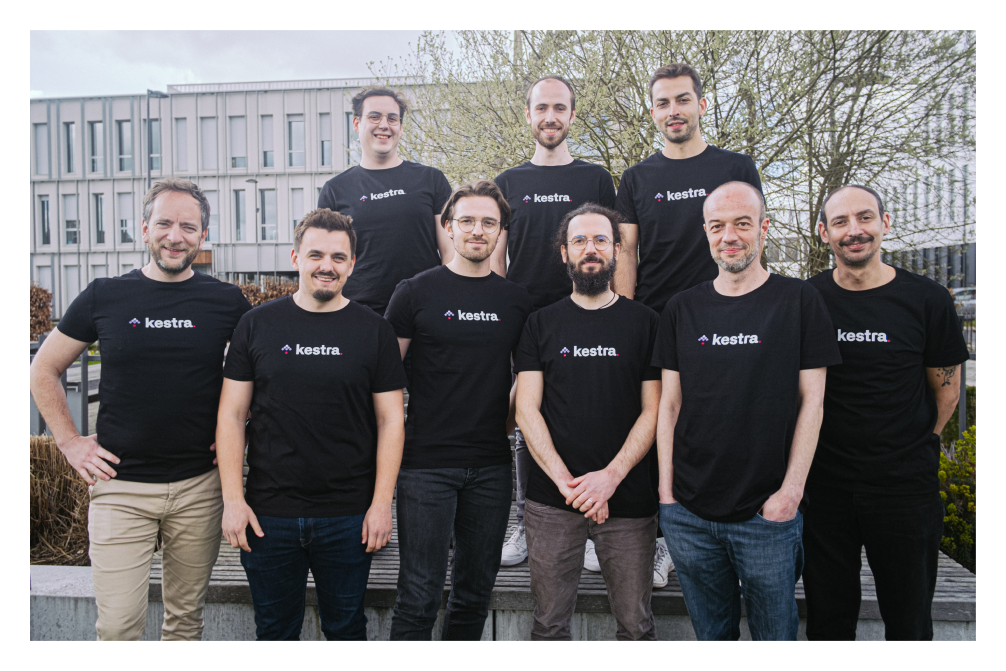 The Genesis of Kestra
Our journey began with an inspiring vision: to design a data orchestration platform that would transcend the limitations of existing market solutions while offering an exceptional user experience.
As a team of professionals with a solid background in automation and workflow planning, we have constantly been driven by the ambition to push the boundaries of what is possible. We aspired to develop an open-source solution that would seamlessly adapt to projects of all sizes.
Guided by our passion for innovation and our determination to create an outstanding product, we have crafted our own tool - a platform that redefines data orchestration and automation, paving the way for a new era of possibilities and efficiency.
Elevating Data Orchestration and Automation
Our ambition is to provide a tool that enables all kinds of users to orchestrate and automate their data, workflows, and batches with unparalleled simplicity, autonomy, and high performance. From the first day of our journey, we have been driven by this goal, and we continue to challenge ourselves.
We have dedicated ourselves to the meticulous development of our open-source platform, ensuring that it meets the highest standards of performance and reliability but also empowers users to unlock new possibilities in data management and processing.
Building a Platform for Success
Today, our platform is operational, in production, and performing beyond expectations. Hundreds of internal users have experienced significant productivity gains since adopting Kestra, validating our efforts to create a truly revolutionary solution.
We are incredibly proud of the impact that our platform has made, and we are inspired to continue our mission to redefine the data orchestration and automation landscape.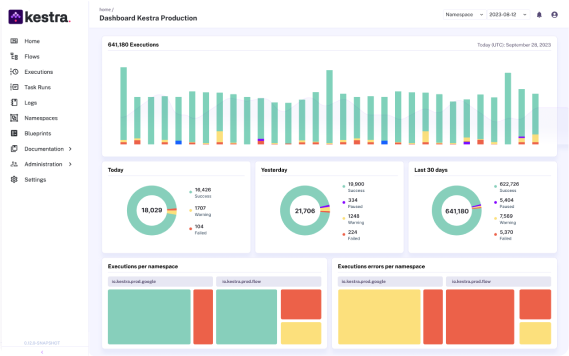 The Public Launch and Beyond
Our commitment to excellence remains unwavering, and we are excited to see how Kestra will transform the way organizations approach data orchestration and automation.
We believe that Kestra's potential is limitless, and we are eager to explore new opportunities and partnerships as we move forward.
Staying True to Our Mission
Our Values and Commitments
At Kestra, our values are at the core of everything we do. We believe that by adhering to these principles, we can create a platform that not only meets the needs of our users but also exceeds their expectations.
Innovation: We are driven by a passion for continuous improvement and a desire to challenge the status quo. We strive to develop new ideas and solutions that redefine the data orchestration landscape.
Quality
We are committed to delivering a platform that meets the highest standards of performance, reliability, and usability
Collaboration
We believe in the power of collaboration and the importance of fostering strong relationships with our users, partners, and team members
User-Centric
We are committed to incorporating user feedback and addressing their challenges as we continue to evolve Kestra
Transparency
We value openness and honesty in all aspects of our work, from our development processes to our communications with users and partners
Join Our Team and Contribute to the Future of Data Orchestration
We are always on the lookout for passionate and talented individuals who share our vision for a more efficient and seamless data orchestration experience. If you are excited about the prospect of working on cutting-edge technology and shaping the future of data orchestration, we would love to hear from you ❤️