Usages & Use Cases
Unlock the Full Potential of Kestra
Harness your data, unlock valuable insights, and drive informed decision-making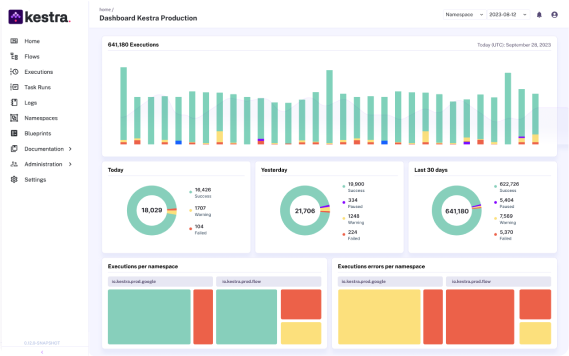 Uncover Kestra's Versatility
Explore the diverse uses of Kestra as a complete orchestration platform.
From automating data pipelines to accelerating machine learning model deployment, Kestra streamlines complex workflows across a wide range of industries and domains. Dive into the wide array of use cases Kestra efficiently addresses.
Automate Your Data Pipelines
Say goodbye to delays in your pipeline as Kestra initiates workflows based on specific times or events, such as data arrivals or file uploads.
Accelerate Machine Learning Model Deployment
Efficiently manage and deploy your machine learning models at scale with Kestra's microservice orchestration capabilities.
Optimize ETL Processes
Seamlessly move data between systems, prepare and clean it, and aggregate it into a consolidated data mart.
Scale Workload Management
Kestra takes care of scaling and processing the workload, reducing the burden on your application server.
Real-time Data Processing with Change Data Capture
Automatically detect changes in data sources and trigger workflows to process those changes.
Automated Reporting
Configure Kestra to distribute reports via email or Slack, keeping your team informed.
Efficient Data Scraping
Easily collect data from various sources and integrate it into your workflows.
Infrastructure Orchestration
Automate tasks such as provisioning, deployment, and monitoring, ensuring a smooth operation across your organization.
End-to-End Data Orchestration
Kestra empowers you to orchestrate data from ingestion to reporting, allowing you to manage the entire data lifecycle.
Take Kestra to the next level with the Enterprise Edition
SSO/OIDC Authentication
Role-Based Access Control
Secret Manager Integration
High Availability
Best in Class Support
And More...
Learn more
Contact us